To that end, bus and coach hire services from London are essential to solving the logistical challenges of bigger groups and helping them travel in comfort and style. Moreover, bus rentals for large groups are good for the environment, as they push down the group's CO2 footprint. In this article, we'll explore the top 15 bus hire routes from London in the UK and discuss how to choose a bus hire service that's right for you.
Discover the historic heart of Scotland: hiring a bus from London to Edinburgh.
It's no wonder that Edinburgh is one of the most popular destinations to travel to by bus from London, considering the city is jam-packed with history, culture, and music. As such, it's a famous destination for music festivals, sightseeing tours, and school trips alike. Moreover, there are abundant options for bus hire from Edinburgh for more local destinations.
The most iconic locations in Edinburgh include the historic Edinburgh Castle, perched atop an ancient volcano that dominates the city's skyline, Arthur's Seat, which is the highest hill that overlooks the city, and Royal Mile, the city's busiest trading street filled with shops, pubs, and various sites.
The bus trip from London itself is a handful as it takes about 9 hours, and the distance between the two cities is about 650 km. However, travelling with Volubus ensures a top-notch bus rental service. We also have a bus rental service in Edinburgh. Plus, coach journeys are as much about the journey as they are about the destination.
Your next Scottish adventure waiting to happen: travelling by bus from London to Glasgow
Once known as "The Second City of the British Empire", Glasgow is a premier destination for lovers of history, maritime engineering, transportation, arts, and sports alike. The city is home to iconic sites such as the Riverside Museum of Transport and Travel, the Kelvingrove Art Gallery and Museum, Glasgow's medieval cathedral, and of course, Hampden Park, one of Scotland's oldest football stadiums and battleground of fierce football rivals – Celtic and the Rangers. All this means that there are excellent group transfer services in Glasgow.
As such, the city is a popular destination for event organisers, sports team transfers, and bus rentals in general. Coach hire from London to Glasgow with Volubus is a great way to ensure your reliable group transfer. Moreover, picking a comfortable coach rental service is essential, since the distance to cover is about 650 km and the journey can take over 7 hours to complete. Make sure you don't hire the wrong bus rental service in Glasgow.
Discovering Scotland's maritime heritage: bus rental service from London to Aberdeen
Aberdeen is Scotland's third-largest city and boasts strong ties to its maritime industries. Its famous Maritime Museum offers insights into the city's deep-sea heritage and, in particular, into its shipbuilding and fishing history. It's also home to the Duthie Park Winter Gardens, which are full of exotic plants, as well as the Old Aberdeen area that excellently captures the essence of ancient Scotlands.
Getting to Aberdeen from London by bus is no picnic as the distance is about 874 km and the journey takes around 12 and a half hours. However, bus rental to Aberdeen with Volubus ensures comfortable travel and a first-class coach hire service for groups of all sizes, giving them an excellent opportunity to mingle with each other.
Traversing the UK with a London bus rental to Inverness
Located in the far north of the Scottish Highlands, Inverness is an iconic city that boasts legends of lake monsters, rich historical sites, a pristine nature, and the UK's top ski resorts in its vicinity.
However, travelling to Inverness by bus from London is not for the faint of heart. The total distance is about 916 km and traverses almost the entire length of the UK and takes north of 13 hours to complete. However, coach hire services with Volubus ensure private ski transfers and airport transfers that are comfortable for all passengers and a flexible itinerary to fit your needs.
Exploring the Heart of the English North-East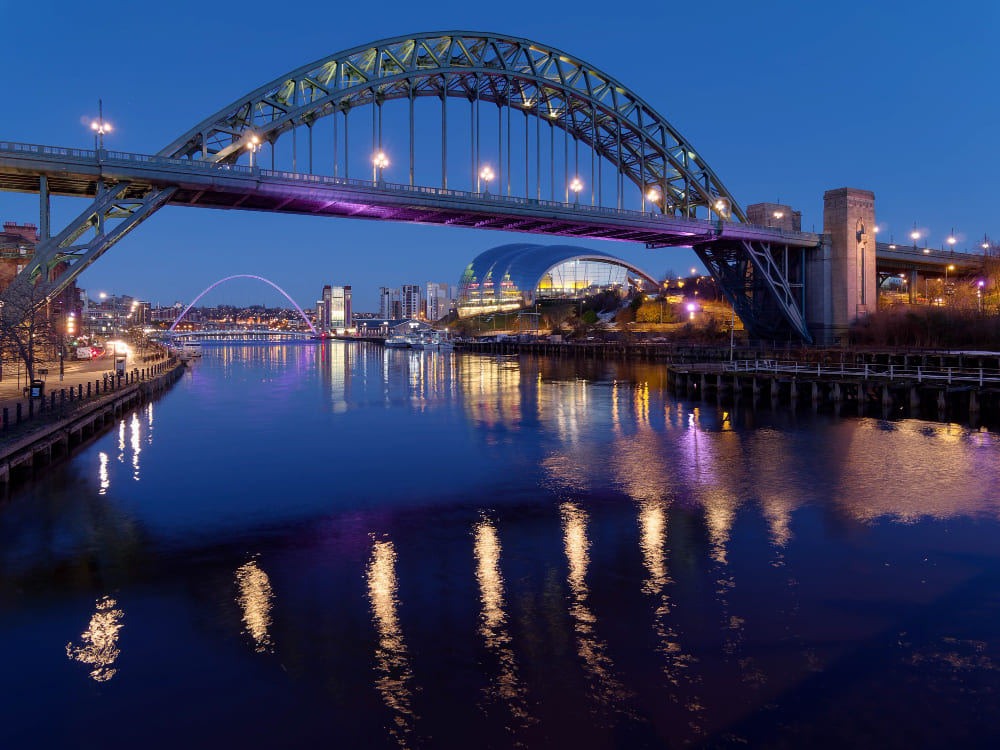 Newcastle upon Tyne is one of the most iconic cities in the English North-East. It's home to the Tyne Bridge, the Newcastle Castle, the BALTIC Centre for Contemporary Art, and the Newcastle Football Stadium. It's a city that has a little bit of everything.
Getting from London to Newcastle by bus still takes the better part of a day but is nowhere as long as the trip to Inverness. The distance between the two cities is about 468 km and the travel time is usually around 6 to 7 hours. At Volubus we've made organised event transportation for large groups a breeze as we ensure all guests travel in comfort and arrive at the same time with our Newcastle bus hire service.
Going to the British Mecca of Football: Coach hire from London to Manchester
Manchester is one of the most iconic British cities in the world in no small part thanks to its football stadium. Old Trafford is home to some of the best football clubs in the country. Of course, there's much more to the city than football, such as Museums and Cathedrals which stand as a beacon of its religious, historical, and architectural heritage.
Travelling from London to Manchester by bus is quite manageable as the distance between the two is about 332 km and the journey takes about four and a half hours. Especially when using Volubus' Manchester group transfers, companies of all sizes can enjoy speed, comfort, and flexibility. We offer dedicated sports team bus transfers and all sorts of five-star event transportation services.
London to Liverpool: Exploring the city of the Beatles in style: bus rental
Image by frimufilms on Freepik
Liverpool, most known for being the home of the Beatles, is one of the most famous tourist destinations in the UK. It's also home to the Beatles Story Museum, the historic Albert Dock which is a UNESCO World Heritage site, and the UK's largest cathedral – a marvel of intricate gothic designs and a vantage point of stunning panoramic views.
Getting from London to Liverpool takes roughly the same amount of time as it does to get to Manchester. The total distance between London and Liverpool is about 347 km and the time to make the bus trip takes around four hours and forty minutes. Our dedicated Liverpool private shuttle, airport transfer and sports team bus transfer services ensure that groups of all sizes can travel together in comfort and style, as well as make any stops along the way for a flexible itinerary.
Cardiff: Discover the Welsh Capital in Style
Being the capital of Wales, Cardiff can boast a proud cultural and historical heritage. The most famous city sites include the medieval Cardiff Castle which is over 2,000 years old. Art lovers can visit the Wales Millennium Centres, while those seeking the peace of nature can take a walk in the Bute Park, adjacent to the castle, and have the River Taff flowing alongside you.
Travelling from London to Cardiff by bus is the preferred means of transport for many large groups as the distance between the two is just 240 km and the journey takes about three and a half hours. Apart from being an airport and home to a famous football club, Cardiff is also a popular wedding destination. Our dedicated wedding transportation services ensure that all of your guests will arrive safely, and timely, and will have every opportunity to mingle with each other during the group transfer to Cardiff.
Navigate the Yorkshire Hub with Ease: Bus rental service from London to Leeds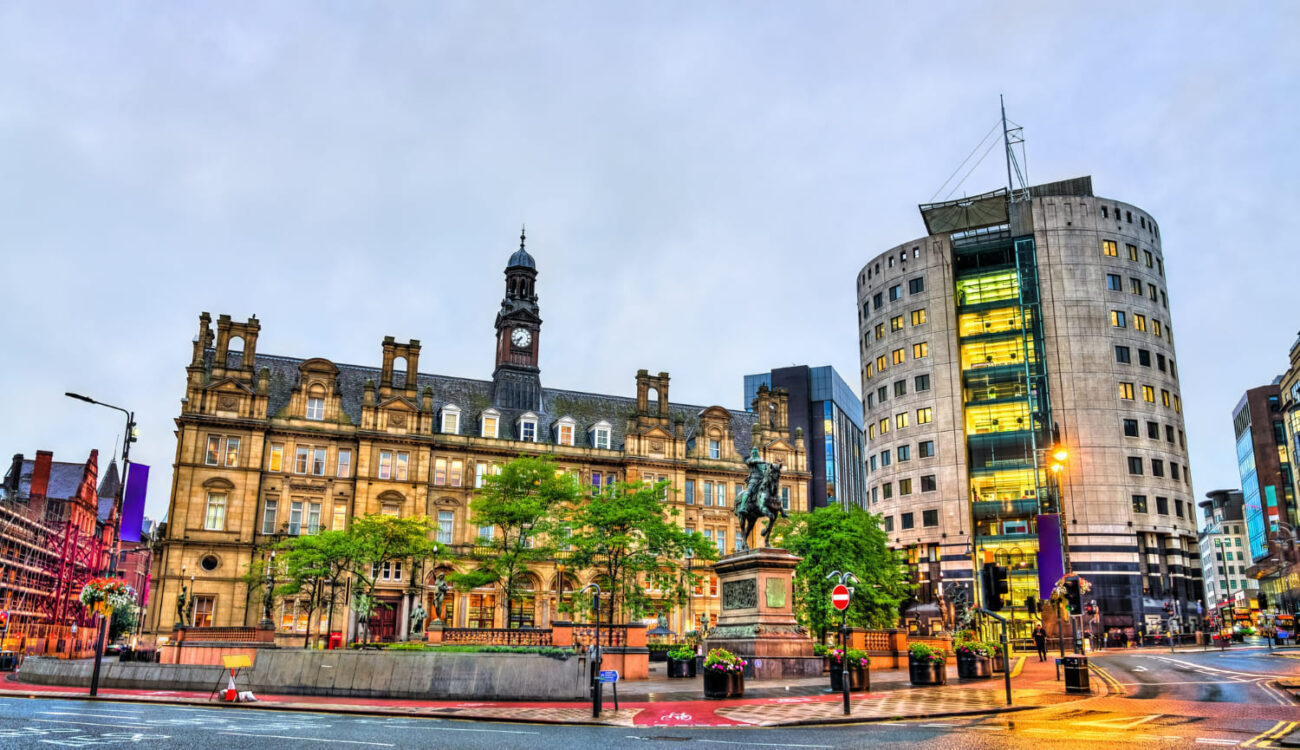 Leeds, a historic Yorkshire hub, blends medieval charm with urban vitality. The Royal Armouries Museum displays centuries of martial heritage, while Kirkstall Abbey's ruins whisper tales of monastic life. At the heart, Leeds Corn Exchange showcases Victorian grandeur, housing boutique shops in a testament to the city's trading legacy.
The journey from London to Leeds by bus takes about four and a half hours and the distance between the two cities is about 315 km. Event organisers can take advantage of our excellent minibus hire services or Yorkshire coach hire services, depending on their group size. Volubus is committed to ensuring comfortable high-end group transportation for groups of all sizes to and from Yorkshire.
Experience the Historic Charms of York via coach hire from London
York is renowned for its rich history, medieval charm, and ancient city walls. It offers a journey through England's storied past. At its heart stands the Gothic marvel, York Minster. Nearby, The Shambles, with its narrow cobbled streets, evokes an old-world aura of trade and craftsmanship. Complementing this historical narrative, York's Chocolate Story uncovers the city's sweet contribution to the world of confectionery.
Using a bus rental service from London to York is quite straightforward as the journey takes about five hours and the distance between the two cities is 339 km. York is a popular destination for school bus trips, airport transfers, and private shuttles. Volubus is an experienced and reliable company that offers high-quality group transportation services to and from York. We help organisers ensure a high degree of satisfaction among their group.
London to Bristol: Exploring the English Southwest: Bus hire services
Image by wirestock on Freepik
Bristol is a vibrant maritime city with a rich history that invites visitors to explore its diverse attractions. It's home to the historical ship SS Great Britain designed by the ingenious Brunel, that stands as a testament to maritime engineering. An iconic city marvel is the Clifton Suspension Bridge which spans the Avon Gorge, offering breathtaking views. Lastly, the Bristol Zoo Gardens teem with life, bringing nature's wonders to the heart of the city.
Traveling from London to Bristol by bus is a popular choice since the distance is just 190 km and the journey takes under three hours. Bristol is also an emerging hub for corporate events and cultural festivals. With Volubus at the helm, whether it's for a corporate gathering or a cultural escapade, our top-notch Bristol coach rental services guarantee a seamless, comfortable, and engaging journey for groups of all sizes.
The Industrial Jewel of England: Birmingham Coach Hire from London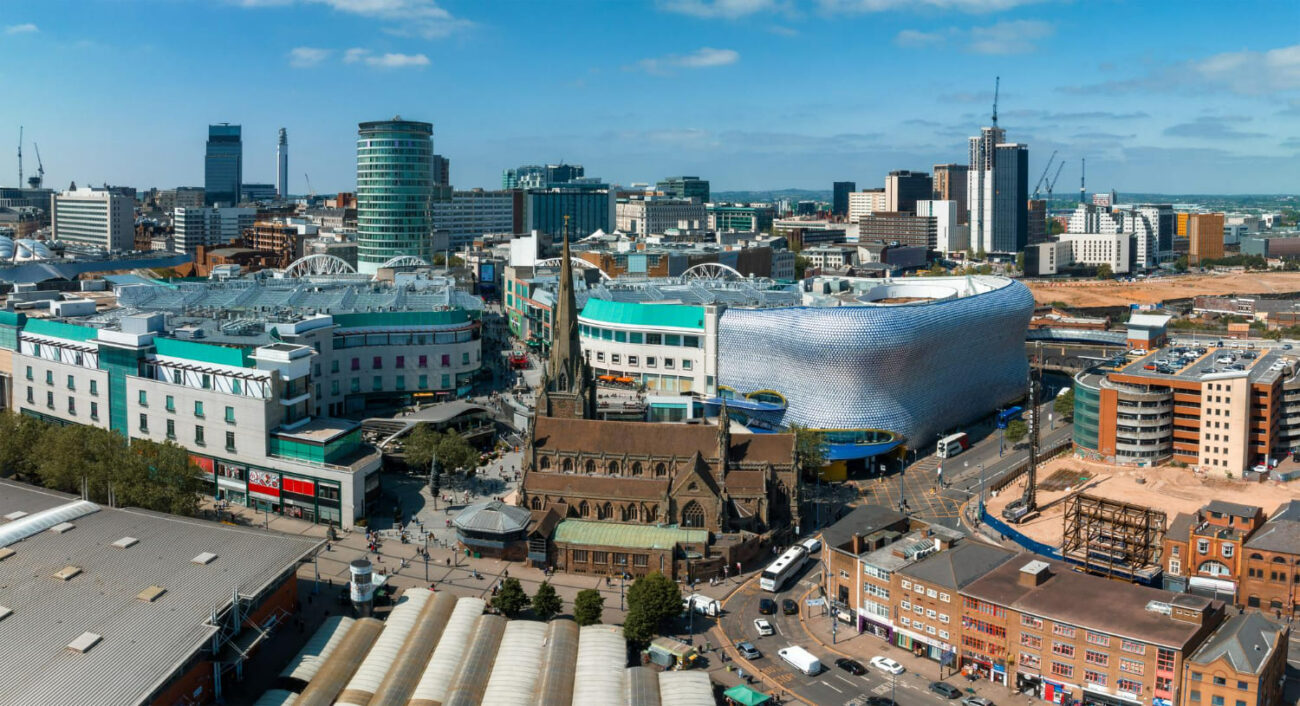 Birmingham stands proud as England's second-largest city and the beating heart of its industrial past. At its core, the Birmingham Museum and Art Gallery offers an expansive collection, displaying the city's artistic and manufacturing history. Cadbury World, a sweet retreat, delves into the delicious world of chocolate-making. Not to be missed, the Bullring Shopping Centre, one of the UK's largest, showcases Birmingham's vibrant modernity and retail prowess.
Travelling from London to Birmingham by bus is a popular choice for many groups since the journey takes less than three hours and the total distance between the two cities is about 190 km. As Birmingham emerges as a prime destination for business conferences and music events, Volubus's business and cultural event transportation services are a great advantage to any savvy travel organiser. We guarantee a smooth and memorable travel experience for all group sizes with our Birmingham coach hire service.
Gateway to Devon's Beauty: Exeter Coach Hire from London 
Exeter, nestled in the heart of Devon, is a treasure trove of historical and cultural significance. The Exeter Cathedral stands as a testament to Gothic grandeur and intricate craftsmanship, drawing visitors to its centuries-old charm. The Royal Albert Memorial Museum offers a deep dive into the region's rich past, while the Underground Passages unravel hidden subterranean stories of the city's ancient aqueducts.
Travelling from London to Exeter by bus offers a journey through England's picturesque countryside. Covering a distance of approximately 313 km, the trip takes around four and a half hours. As Exeter thrives as a centre for education, tourism, and culture, organised school trips and private tours are a common sight. Volubus provides a seamless transportation experience with our dedicated school bus and top-notch Exeter bus rental services. Regardless of the purpose of your journey, our five-star services ensure that groups of all sizes arrive relaxed and ready to explore.
Steel City Adventures: Sheffield Coach Hire from London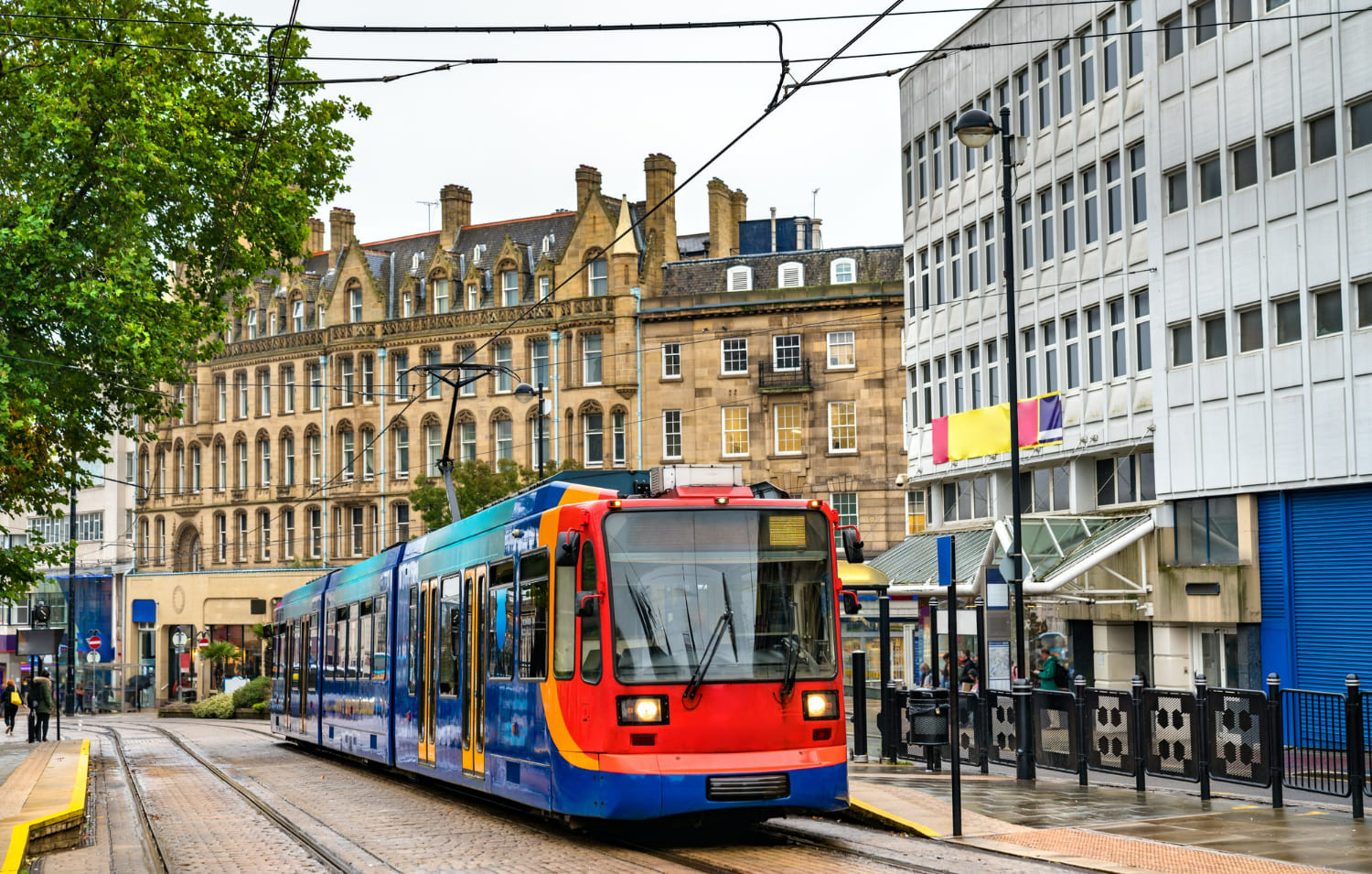 Sheffield, historically renowned as the heart of Britain's steel industry, offers a unique blend of industrial heritage and natural beauty. The expansive Winter Garden showcases a modern urban greenhouse, contrasting with the city's steel roots. Kelham Island Museum delves into Sheffield's industrial past, illuminating tales of craftsmanship and innovation. A short distance away, the Sheffield Botanical Gardens beckon with lush landscapes and tranquil spaces, reflecting the city's greener side.
Embarking on a bus journey from London to Sheffield presents an inviting route through the UK's varied terrains. With a distance of about 270 km, travellers can expect a journey time of around 3:30 hours. Sheffield's rich cultural tapestry, coupled with its academic vigour, makes it a sought-after destination for various occasions. With Volubus leading the way, groups seeking educational excursions, historical tours, or simply a leisurely exploration can trust our dedicated and comfortable Sheffield group transportation services.
Unearth Leicester's Rich History: Coach Hire from London to Leicester
Leicester, a tapestry of history and innovation, beckons visitors with its unique attractions. The National Space Centre offers a deep dive into the universe's mysteries, showcasing space exploration's cutting-edge wonders. Meanwhile, the King Richard III Visitor Centre brings to life the dramatic story of the last Plantagenet king, entwining history with discovery. In the city's heart, the Leicester Cathedral stands as a beacon of faith and resilience, resonating with centuries of devotion.
Setting out from London to Leicester by bus is a delightful journey that unfolds across England's picturesque landscapes. Covering a distance of 163 km, the trip is a concise two and a half hours, making it a favourite for day-trippers and weekenders. Leicester's eclectic mix of heritage, science, and spirituality appeals to a wide audience. With Volubus' Leicester mini bus rental service, you can be assured of a comfortable, timely, and enriching travel experience, tailored to your group's needs.
How to pick a bus transportation service that's right for your group?
Picking the right bus transportation service can often get confusing because there are so many companies to choose from. While Volubus is more focused on a luxury bus transportation service, other local services based in Derby, Birmingham, or even London can offer cheaper solutions.
But how do you choose the company that's right for you? Reviews and reputation play a huge part. You don't want to risk the experience of up to 50 travellers and let it depend on a random stranger.
Price transparency is another good one. While prices may depend on some factors, all of them can usually be accounted for. As long as you know exactly what you're looking for, a good transportation company should be able to provide you with a transparent price tag.
Apart from reviews and prices, picking a company that actually has a bus fleet that can support your group journey is non-negotiable. If you need a coach, but the people can only offer you a minibus, then that won't cut it. Moreover, if you want to create a nice experience for your school trip, sports club, or wedding guests then picking a bus that has added extras such as a WC, Wi-Fi, Air conditioning, and comfortably sized seats will be paramount to their comfort and overall satisfaction.
To this end, Volubus is famous for its reputation, reliability, fair prices, and luxury bus transportation services.
Long-Distance Bus Hires from London in a nutshell
If you're looking for comfortable transportation for mid to large groups from London to any point in the UK, you can't go wrong by choosing Volubus' elite bus rental transportation service. Not only will your group travel in comfort and style, but they'll have time to enjoy the scenery along the way and build some camaraderie with each other as they share an unforgettable journey.